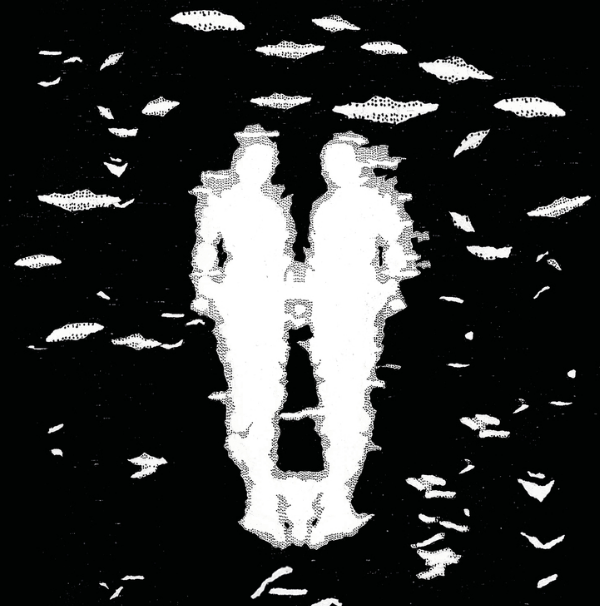 Berlin techno luminary, and BPitch label founder, Ellen Allien turns her attention to the romantic darkwave duo Lebanon Hanover, aka Larissa Iceglass and William Maybelline, with this double pack of remixes. 
As a DJ and artist, vocals have always been a signature of Ellen's sound since her first track, using her own voice in her productions and sets. She's constantly editing and remixing tracks for her own use, playing with voices and effects, to create the exact mood she wants for every dancefloor. These cuts began life as personal edits for her own DJ sets in 2019, appearing in her last Boiler Room and many shows since. They captivated fans of her, and the band, who clamoured for an official release and now those wishes are answered.
The remixes merge the dark touch of both artists to both illuminate and cross pollinate their divergent musical attitudes.  Ellen writes: "I'm a fan of Lebanon Hannover – they're my weekly soundtrack at home, dancing around the carpet with my friends. They display a radical side without screaming, but understated and cool, clever poetry and stories in every song that appeal to me completely. Their lyrics speak to my soul and embody a feeling for me of where I come from. The Berlin of the past, that was empty and changeable, full of possibility from which we were finally able to blossom. Although Larissa sings in a very pretty way, the attitude is one of truth and melancholy, not pretending that the world is sweet and happy, but full of intensity, it's sexy and truthful."
For her takes on 'Living On The Edge', she pushes up the tempo and adds thumping drums to the arrangement. Larissa's vocals sit comfortably on top of the club-focused instrumental, which stays true to the original spirit of the song while reconfiguring it for the dancefloor. The melancholy romance is still present, but the energy elevated for body movement. Her explosive 146bpm remix of 'Living On The Edge', a digital exclusive, is a vast and perfectly of-the-moment techno cut.
Ellen's second remix is a techno reinterpretation of 'Invite Me To Your Country'. Pulsating kick drums and an air of menace pervade throughout. Ellen skilfully piques our emotions, retaining the key motif and guitar riff from the original to great effect. Halfway through Iceglass' unmistakeable vocals drift in, adding depth and grace to the arrangement.
The remixes are lovingly and respectfully composed by an artist who counts themselves as a sincere fan of Lebanon Hanover. Dark wave and techno have always had a close relationship and these remix demonstrate how they can be blended seamlessly. 
Follow Lebanon Hanover:
Facebook / Soundcloud / Bandcamp
Follow Ellen Allien: